]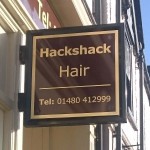 145 High Street,
Huntingdon,
PE29 3TF
Tel: 01480 412999
Coronavirus Update- January 2021.
Sorry everyone, here we go again!
After moving into 'Tier'4 on Boxing Day 2020, The government has announced that from Tuesday 5th January England will move into its third National Lockdown.
Therefore, sadly the salon will remain closed until further notice.
If you have an appointment booked over the coming weeks up to the point where we reopen please assume this is now cancelled. As long as we have your contact details the salon will endeavour to its best to contact you for rescheduling.
In the meantime, if you wish to contact the salon at any time for enquiries or rescheduling please do so on the usual phone number (01480) 412999 and someone will be happy to speak to you.
As soon as we officially know when we can reopen, our website and Facebook page will be updated accordingly.
Fingers crossed, it wont be too long before we see you wonderful people again!
Look after yourselves, Stay Safe, & best wishes
hackshack hair.